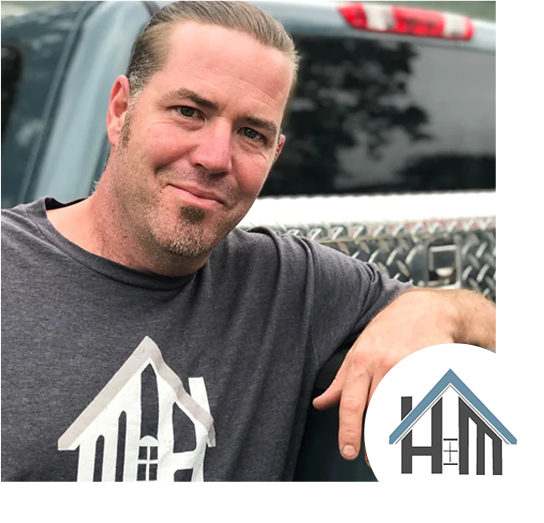 Millions of people nationwide report not having the confidence to perform even basic home maintenance chores, let alone the more complicated jobs that require much more expertise.
Dustin welcomes you on a fun-filled journey where you can learn the fundamentals of home maintenance—from renovations to repairs. The practical quick fixes, dad jokes, and sensible instructions by Dustin make the learning process easy and fun.
Dustin's passion for tools dates back to the age when most other children play with toys. When others were playing with trucks, dinosaurs, and building blocks, Dustin was busy exploring nails, hammers, and other tools that helped him land work as the building operator at the university dorms. Soon, his passion made him choose a career in residential renovations and repairs.
During this time, he worked on an array of home exteriors in Virginia Beach. Dustin operated the home repair company for over a decade. He acquired many new skills and polished old ones until he became a holistic home repair and renovation specialist.
Understanding the perils of rising handyman costs and the power of digital platforms, Dustin stepped up to help DIYers succeed in saving costs, time, and other hassles by learning diverse skills through 'How To' videos posted regularly on The Home Mender platform.
Homeowners now rave about Dustin's style of helping people with some of the best DIY videos available online. The pro speaks in plain and simple terms, so even a layperson can understand the complicated terminology and complete the process easily and safely without any missed steps that can compromise the functionality or aesthetic value of the project.
Dustin not only addresses all problems proactively, but his non-condescending style and respectful demeanor also win the hearts of everyone looking to save time and money. His humorous delivery and insightful tips have helped many homeowners and handypersons gain the confidence to take on challenging projects.
With over two decades' worth of experience, Dustin has helped mend countless homes. He has taught many viewers ways to save money while taking care of whatever's needed in the home.
Knowing how to install switches, repair leaking toilets, and implement other home improvements can save homeowners time, stress, and thousands of dollars throughout home ownership.
With handy internet advice and knowledge, homeowners no longer blanch at the thought of clogged gutters or leaky pipes. The expert insights will help with everything from electrical work to plumbing, painting, landscaping, and more.
Many tradesmen also feel empowered to start their own home repair company with words of encouragement and easy-to-follow tips and instructions shared by Dustin.
Find Yourself Transformed from Helpless to Confidently Skilled in No Time
With some basic and expert-level understanding, the right toolbox, and a bit of practice, homeowners and tradespeople can roll up their sleeves to take charge of all household repair and renovation tasks.
Homeowners will learn to upgrade their living spaces, perform annual inspections and maintenance, prepare an annual upkeep budget, and create curb appeal by executing interior and exterior renovations.
Whether you're excited to impress family, friends, and neighbors or want to enjoy the satisfaction of saving money and time while getting the job done right, Dustin's tutorials are all you need to tackle home repairs and renovations on your own.
Dustin's experience and helpful instructions will prepare you for planning, budgeting, prepping, implementing, and completing a wide range of home repair and improvement projects. The DIY tutorials are inclusive of all experience levels.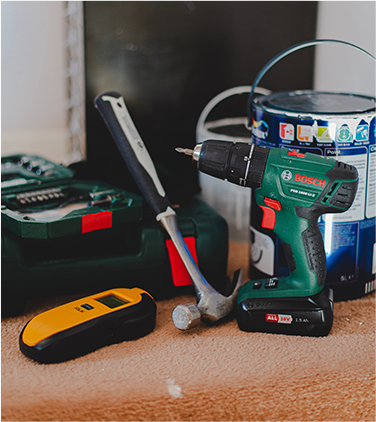 Ask questions, view and upload pictures, and get access to exclusive content as you learn trade tips and tricks.